Allbirds
TrinoXO Tee
$48
Available in
men's
and
women's
When Tim Brown first founded Allbirds, he aimed to incorporate his native New Zealand's abundance of merino wool—an underutilized sustainable material—into footwear. Five years on, and the brand has become somewhat of a phenomenon among eco-conscious consumers seeking lightweight, unfussy alternatives to athletic or casual sneakers. Allbirds is now taking a major leap forward by branching into apparel, debuting a collection of stylish yet performance-driven basics that offer a refreshing antidote to disposable fast fashion.
Consisting of the
TrinoXO Tee
,
Wool Jumper
,
Wool Cardigan
, and
Trino Puffer
, the collection pushes major sustainability boundaries by displaying each piece's carbon footprint. on the tag. The TrinoXO Tee, most notably, makes remarkable use of XO, a naturally derived and highly durable fiber made from discarded crab shells sourced from the Canadian coast. Not only did the fabric enable the Allbirds team to overcome the daunting task of designing a comfortable, well-proportioned tee, it also naturally keeps the garment fresh, eliminating the need for washes after every wear. The result is a set of sustainable, cutting-edge classics that, true to Allbirds form, don't compromise on style or substance.
Behind the Design
We chatted with Allbirds design directors Jamie McLellan and Alexa Silva to get the full scoop on the TrinoXO Tee. Read the full interview below.
By The Numbers:
6 colorways
7.1 kg carbon footprint
100% carbon neutral
20% lower carbon footprint than standard cotton or polyester t-shirt
100% FSC-certified eucalyptus tree fiber
3 other items in the inaugural apparel collection
How does Allbirds' philosophy of "the right amount of nothing" inform this collection?
Jamie McLellan: This collection is a true embodiment of our design philosophy—it's minimalist, yet expressive, and lets natural materials shine. Each piece is a wardrobe essential that you can wear over again, and yet they have playful elements that are distinctly Allbirds. A great example is the small donut detail on the sleeve of the tee, which directly references the exaggerated eyelets on our sneakers. These small touches add a uniqueness to otherwise classic silhouettes, which is an Allbirds signature.
What challenges did translating Allbirds' DNA into apparel present when you were designing?
Alexa Silva: The idea of translating natural materials along with the "right amount of nothing" into a tee is definitely different than a shoe. A tee is the hardest apparel item to design, hands down. There's so little to work with, and it doesn't look great when over-designed. We focused on looking at fit, proportion, and expression that works with the materials, not against them. After hundreds of prototypes, we landed on an easy cut that promotes comfort and acts as a foundation for our future apparel design language. Through small, subtle details, like the broader neck band and embroidery, we infused the Allbirds design ethos into this new category… and that was all for a "simple" tee!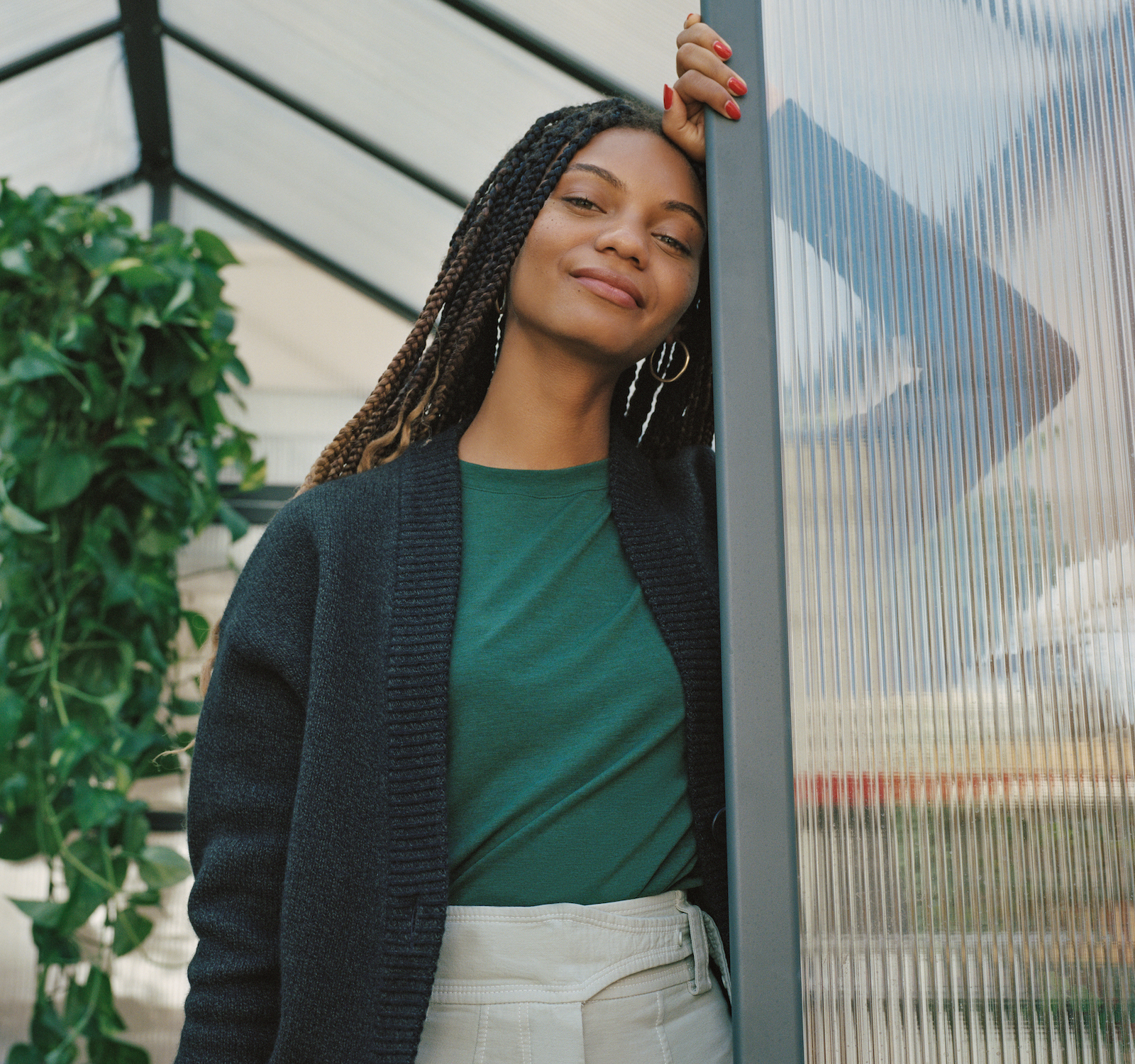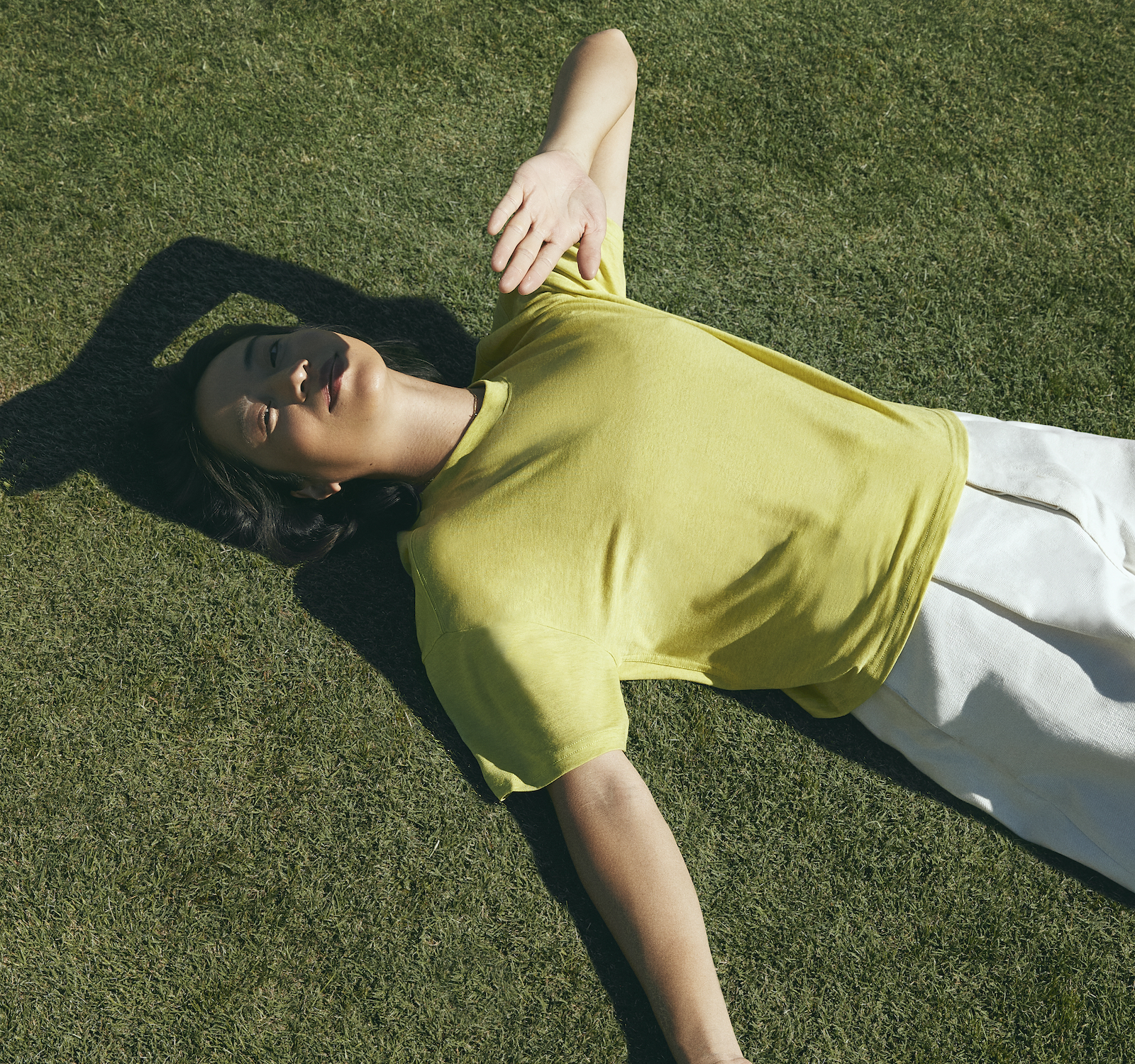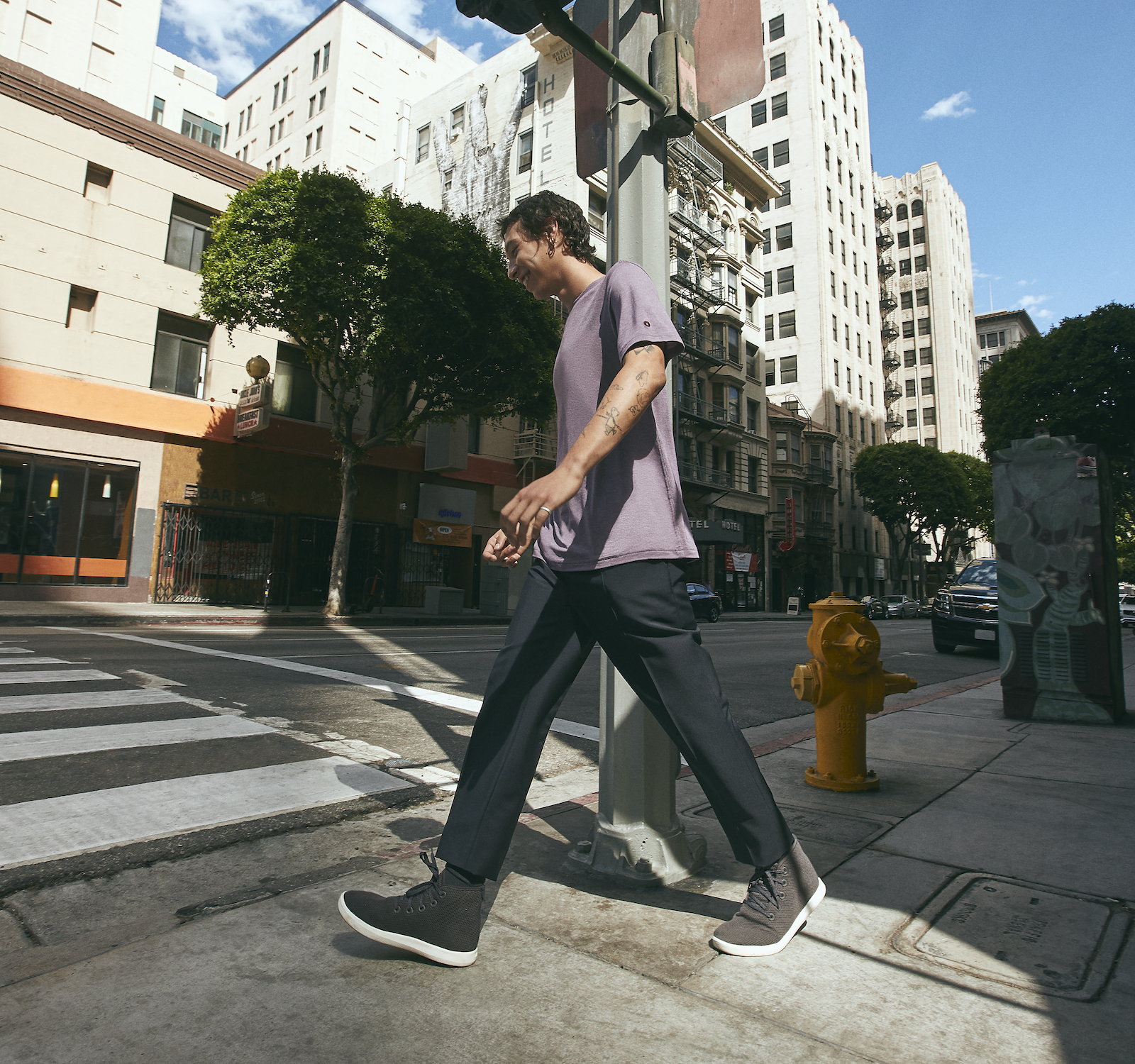 Tell us more about XO, the fiber made from discarded shells. What made you decide to use this material, and what are some of its benefits?
JM: XO is our newest material innovation, which keeps our tee fresher for longer without relying on extractive metals like silver or zinc. It's actually made from crab shells sourced from the coast of Canada and is a byproduct of the seafood industry, but when spun into fiber form becomes a naturally funk-fighting material. This means that our tees require fewer washes, which is another environmental benefit.
What led you to label this collection as an "evolution of nature?"
AS: When designing apparel, we start with materials and the problems we want to solve, and sustainability is at the core. We want our apparel to champion that and feel like a gradual development—or "evolution"—of natural materials.
How do you hope fans of Allbirds react to this collection?
AS: That they enjoy wearing it! I also hope they learn the power and performance of natural materials, along with their versatility and impact on the planet. The experience of wearing the fabrics—along with the carbon number on the label—can shift our mentality to be more conscious before buying our next item.