ARCHITECTURE
Silicon Valley's Environmentalist Eden Has Arrived
There are a million products that promise a healthy, mindful lifestyle. Now the developer behind Walden Monterey is giving tech elites a piece of unspoiled land to match—for a price.
There are a million products that promise a healthy, mindful lifestyle. Now the developer behind Walden Monterey is giving tech elites a piece of unspoiled land to match—for a price.
Henry David Thoreau was never really alone at Walden. His cabin was in sight of the main road that cut past Walden Pond. Trains on their way to Boston rattled past the lake. He ate dinner with his family once a week, and often invited curious guests to visit his one-room sanctum and to spend an afternoon talking and strolling through the woods. In fact, according to Laura Dassow Walls, an English professor at Notre Dame and the author of Henry David Thoreau: A Life, a definitive new biography that emerged this year, Thoreau's experiment was on such a "public stage" that "his two years, two months, and two days living at Walden Pond would forever remain an iconic work of performance art."
In other words, Thoreau knew exactly what he was doing. He was marketing self-reliance as an idea, sending it viral and serving as its public face. In "Pond Scum," a 2015 treatise on Thoreau in The New Yorker, writer Kathryn Schulz argues that Thoreau disappoints not because he didn't live in real isolation, but because he treated a minimalist existence as the end goal when he was really living a life that was so far from pared-down. "The hypocrisy is not that Thoreau aspired to solitude and self-sufficiency but kept going home for cookies and company," Schulz writes. "The hypocrisy is that Thoreau lived a complicated life but pretended to live a simple one."
Today, Thoreau's performative simplicity feels more relevant than ever. His philosophy—that self-improvement is moral, that living a more natural and mindful life is virtuous—has been rebranded. We now call this imperative wellness. We are living in a true wellness-marketing boom, a late-capitalist second coming of the 1970s Whole Earth Catalog, with the addition of luxury products; instead of crunchy granola, think $15 green juice. Of course, healthy living involves much more than just eating salad. It is a global business, with billions of dollars at stake, encompassing all aspects of living: food, travel, architecture, shopping, beauty.
Gwyneth Paltrow charged up to $1,500 per ticket for her "In Goop Health" Summit in Los Angeles in June. The Mandarin Oriental hotel in Las Vegas offers a "wellness escape" package, which includes a "Digital Silence Ceremony" and Himalayan rock salt lamps in guest rooms to "absorb electromagnetic fields." Camp Grounded, a "summer camp for adults" in Mendocino, California, prohibits digital technology during sessions and encourages campers to spend time in one of five "wellness tipis" where counselors offer workshops in listening and body movement. A pricy new Manhattan club called the Assemblage is seeking out the mindfulness-craving, yoga-practicing, juice-cleansing Burning Man crowd, pitching itself as "a community of individuals who believe the world is at the verge of a collective conscious evolution." Its menu of offerings includes an "elixir bar" serving non-alcoholic drinks (the property is alcohol-free), a meditation room, and communal ayurvedic breakfasts and lunches; memberships range from $200 to $6,500 per month. As we all become increasingly plugged into the anxious hive mind of the Internet, the marketers of the wellness movement urge individuals to simplify: disconnect, detox, detach.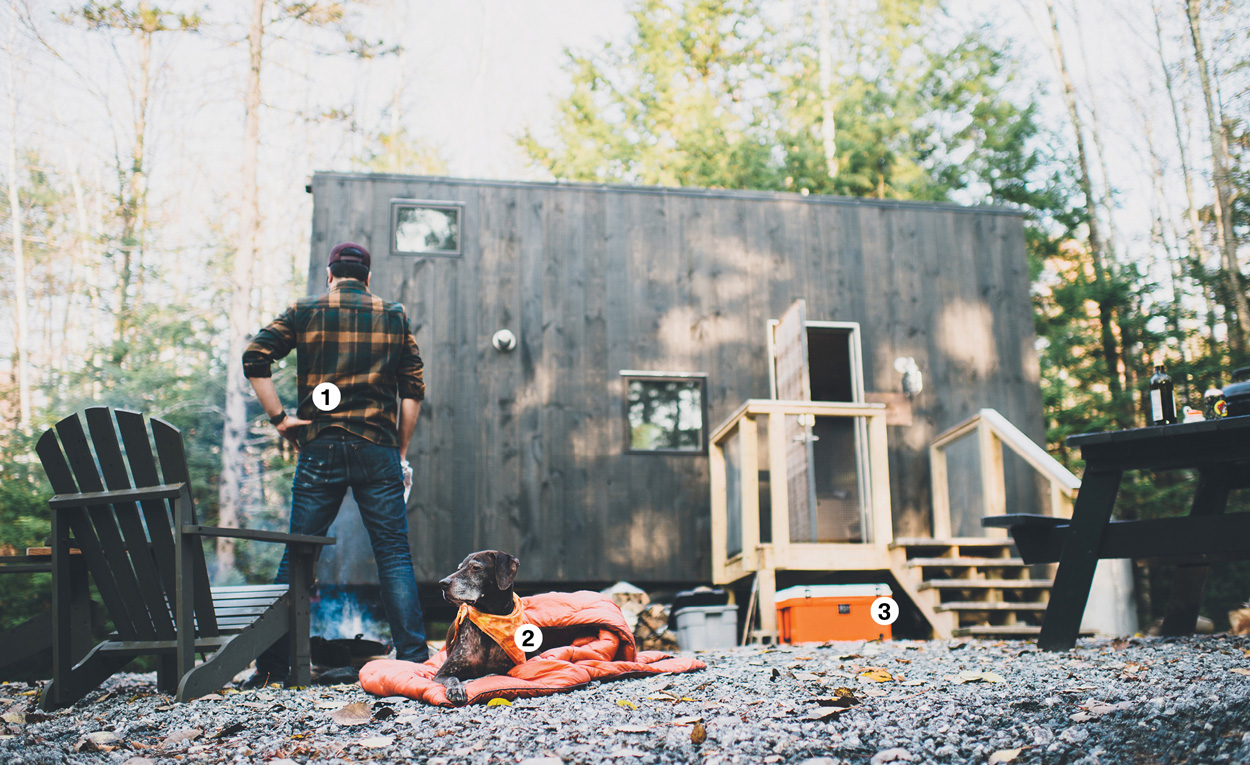 SELLING THE ESCAPE
Marketing materials for Getaway go full-on "Cabin Porn."

1. Flannel shirt; wool five-panel hat.
2. Dog with bandana.
3. Cooler for kombucha, green juice, and IPA – probably.
The language of wellness—which includes such honeyed terminology as "disconnecting," "decluttering," and "good vibes"—is often code for the language of wealth. It is about the ability to afford to radiate an inner glow, to run off to a digital desert and sit in silence for a week, to have the luxury and time to pare your life down to only the chic, minimal essentials. The journalist and design critic Kyle Chayka, who is currently writing a book on the dangers of modern minimalism for Bloomsbury, wrote earlier this year in The New York Times Magazine that "the fetishized austerity and performative asceticism of minimalism" is "expensive and exclusively branded by and for the elite." Thoreau may have been performing when he lived at Walden, but at least his public display was less about consumerism and more about living among the trees. He may have gone home to his mother's house to do his laundry and have a hot meal, but he also didn't have a fortune. Today, so much performative asceticism comes at a high price. Even living among the trees has become an exclusive privilege.
If people are investing so much to treat their bodies like temples, then they also desire temple-like homes in which to house them—sleek, streamlined, ecofriendly designs that are meant to blend in with the natural world while containing every amenity within. At the new 131-acre Hudson Woods in upstate New York, Lang Architects offer 26 "architect-designed dwellings meticulously crafted from locally sourced, sustainable materials" on lots that start at $695,000 (and go up to $985,000). Even lone cabins have become fashionable and elegant: The more rugged Airbnb competitor Getaway, launched in the Harvard Innovation Lab in 2015, offers limited stays in fully outfitted, tiny one-room houses scattered across New York's Catskill Mountains, in the forests of New Hampshire, and outside Shenandoah National Park in Virginia. For upwards of $125 per night, guests looking to flee nearby metropolises can put their cell phones in a lockbox and enjoy life the transcendental way. The new surge of wellness marketing, as it relates to real estate, lies in the pastoral fantasy of getting back to the land. The websites for these new developments show shady paths through tall trees, couples in flannel shirts holding hands, and giant, lumbering dogs that prance around in an arcadia. The message is clearly that there is virtue and health in escaping the city, that redemption from the rat race can be found in the bucolic. But this is no rustic living; these developments are about living luxuriously in the middle of your own private thicket.
One new development that has pushed this philosophy to the extreme is called—quite aptly—Walden. A gorgeous 600-acre swath of land nestled in the sylvan hills above Monterey, California, Walden is intended to be a second home haven for Silicon Valley entrepreneurs who need a place to get away from their phones and plug into the landscape. Its slogan is "disconnect to reconnect." Each 20-acre lot, full of blue oak and knobcone pines, costs $5 million.
The idea to name the project for Thoreau's masterwork (the title is in the public domain) came from developer Nick Jekogian. As we sat on camping chairs on Lot 9, looking over the Pacific ocean as the fog rolled in pink and soft, he told me that he thought to rebrand the development after a revelation he had while camping on the land.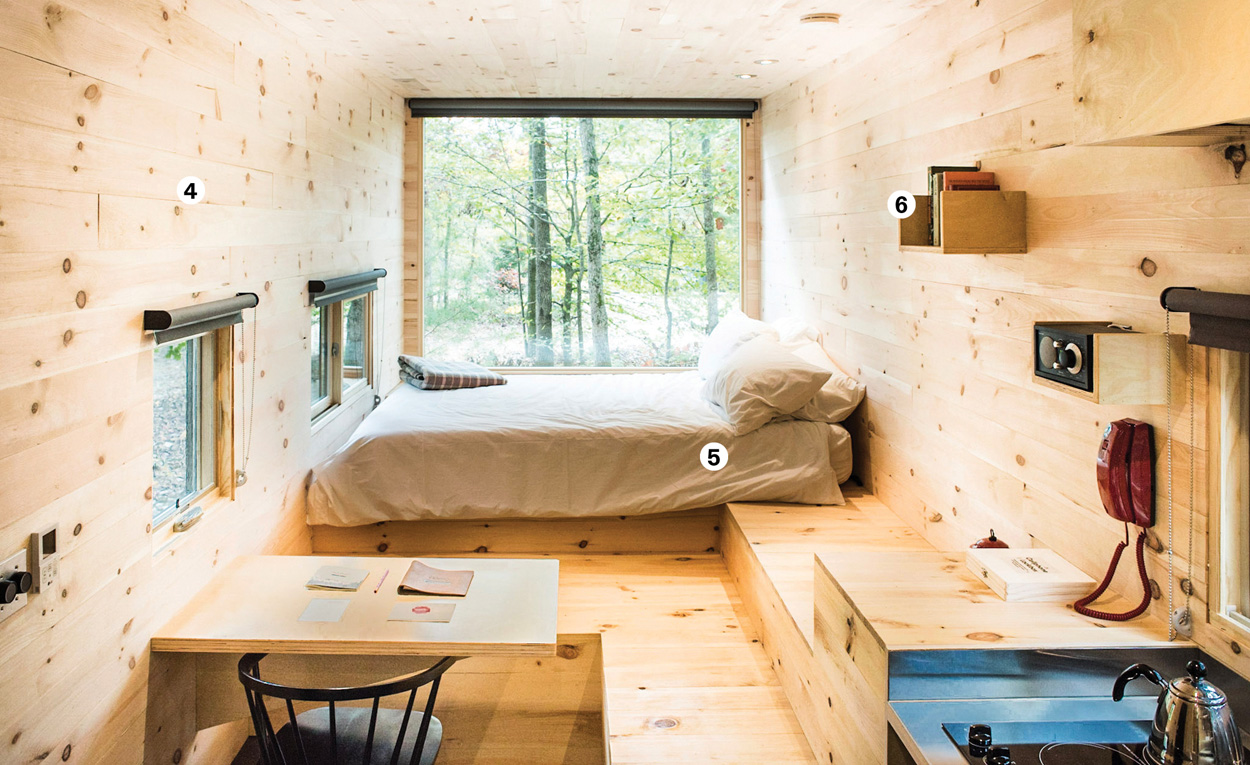 SELLING THE ESCAPE
Marketing materials for Getaway go full-on "Cabin Porn."

4. 360 degrees of unfinished wood.
5. Crisp, white no-nonsense bedding.
6. The Kaufmann Mercantile Guide: How to Split Wood, Shuck an Oyster, and Master Other Simple Pleasures; Moleskine notebooks.
In May of 2016, Jekogian bought a tent, his second purchase after buying the property in Monterey. But he's not much of a camper. He is based in New York City, and specializes in scooping up what he calls "distressed properties all over the United States," fertile slivers of the country that have fallen through the cracks or into logistical paralysis. His specialty is taking over someone else's failed plans, parachuting into dead projects and finding a pulse. The land he bought in Monterey had lain dormant for decades. Its previous owners could never quite actualize their plan to convert their hunk of mountain into an extension of Clint Eastwood's Tehama Golf Club, a collection of sprawling, multimillion-dollar villas on the far side of the ridge. After much negotiation, Jekogian closed on the land on the day that the previous construction permits expired. Like the owners before him, he did not yet have a clear idea of how best to utilize the space. But he knew that he was sitting on a pearl, and that it would be shortsighted to turn all this beauty into a simulacrum of someone else's golf resort.
At the urging of his construction manager, he decided to spend at least a week sleeping on the tract. "He told me, because I'm an outsider coming to the area, that there's this philosophy with architects that before you develop a home you should stay on the land. I think Frank Lloyd Wright was a big believer in this," Jekogian said.
He doesn't call what happened there a transcendental epiphany per se, but he talks about it in those terms: When he was out here, among nature, he says, something happened. He started to see visions. He stopped obsessively checking his email. He started taking morning hikes through the brush. He noticed a bizarre tree, where three oaks had grown together into a mesmerizing tangle, and felt a kind of serenity from it that he never felt on the Upper East Side. And he suddenly thought, I could market this feeling. What if, he asked himself, there was a way to lean into this "beautiful piece of land that has been essentially untouched forever" and turn it into his main selling point?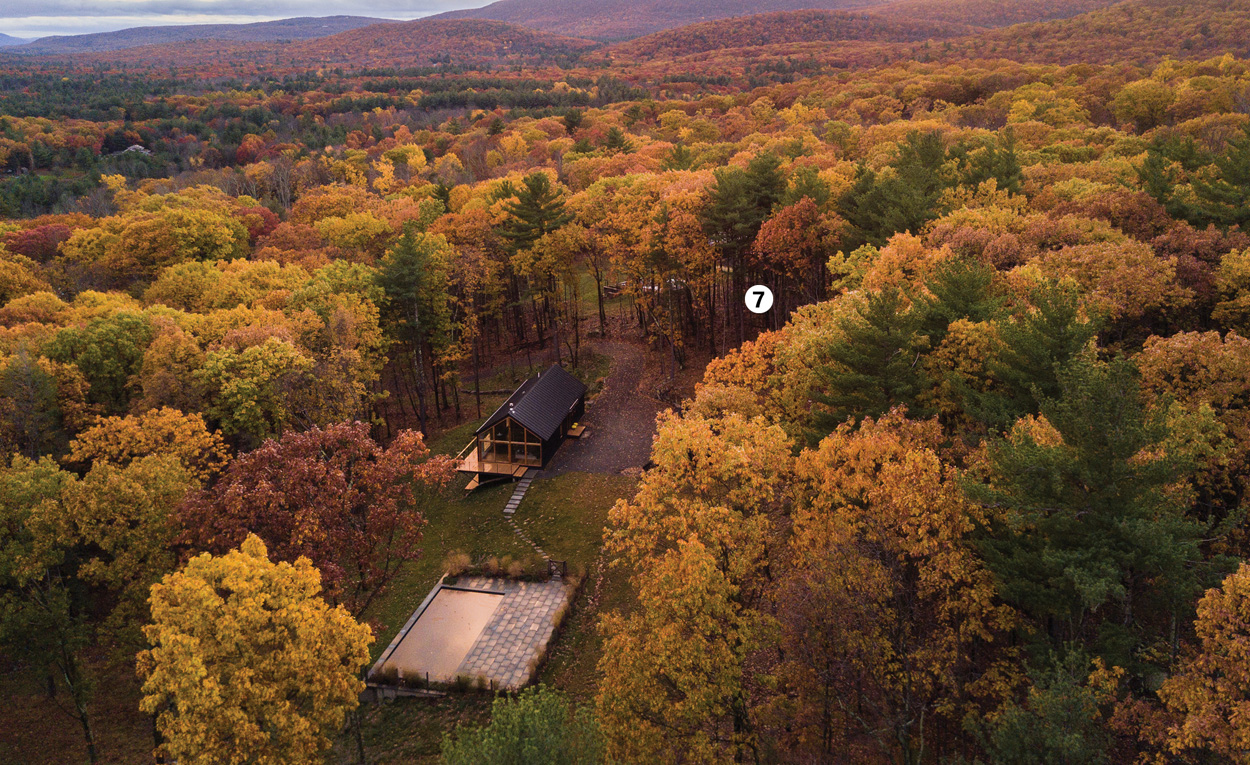 Selling the Escape
Hudson Woods advertises itself with acres of locally sourced cliches.
7. Total seclusion; epic sunsets.
Instead of attracting buyers who wanted to raze trees to make way for grand estates, he could woo those who would be enticed by eco-virtues. He would make an elite environmentalist Eden, where the mantra would be: "Using nature for the regenerative value to us as humans, and especially Type A very busy humans attached to our cell phones all the time." In other words, he wanted to provide overstimulated, wealthy tech types with the opportunity to build vacation homes tucked away in the woods, where the primary goal was to detach from the outside world and simply be outside. After a "visioning retreat," staying in yurts with several design consultants, including architects, artists, and a meditation expert, Jekogian chose the name, believing that his nature-forward sales strategy fit in perfectly with the ideology espoused in the book. He had only read Walden in high school, and even then, likely not all the way through: "I'm sure it was assigned to me, and I'm sure I did the Cliff's Notes version, which was typical of what I was doing in high school to get by."
When I said to Jekogian that, of course, on lots that cost $5 million, no one would be living a truly ascetic existence, he noted that Thoreau wasn't suffering all that much either. "It wasn't that bad," he said. "I see the Walden philosophy as [meaning that] we have to simplify our lives in order to have the opportunity to think about what's more meaningful in our lives and the world." He thinks that Silicon Valley entrepreneurs will be lured by the name because Transcendentalism was, in the end, a viral idea. "I look at it as a philosophy that is two hundred years old and is still talked about, and there are not that many books we can look at two hundred years later and still relate to."
There are only two rules for building a home at Walden Monterey: First, you cannot take down any trees. Second, you must use renewable energy for power. Jekogian decided to price all the parcels at the same rate because "every lot has a very distinct personality" and he didn't want to value one type of landscape over another. As we hiked around the property, he showed me lots situated on top of high bluffs that have "more ego" and others that are nestled into shady valleys that are designed for maximum privacy and solitude. There are no restrictions on the type or style of home one may build.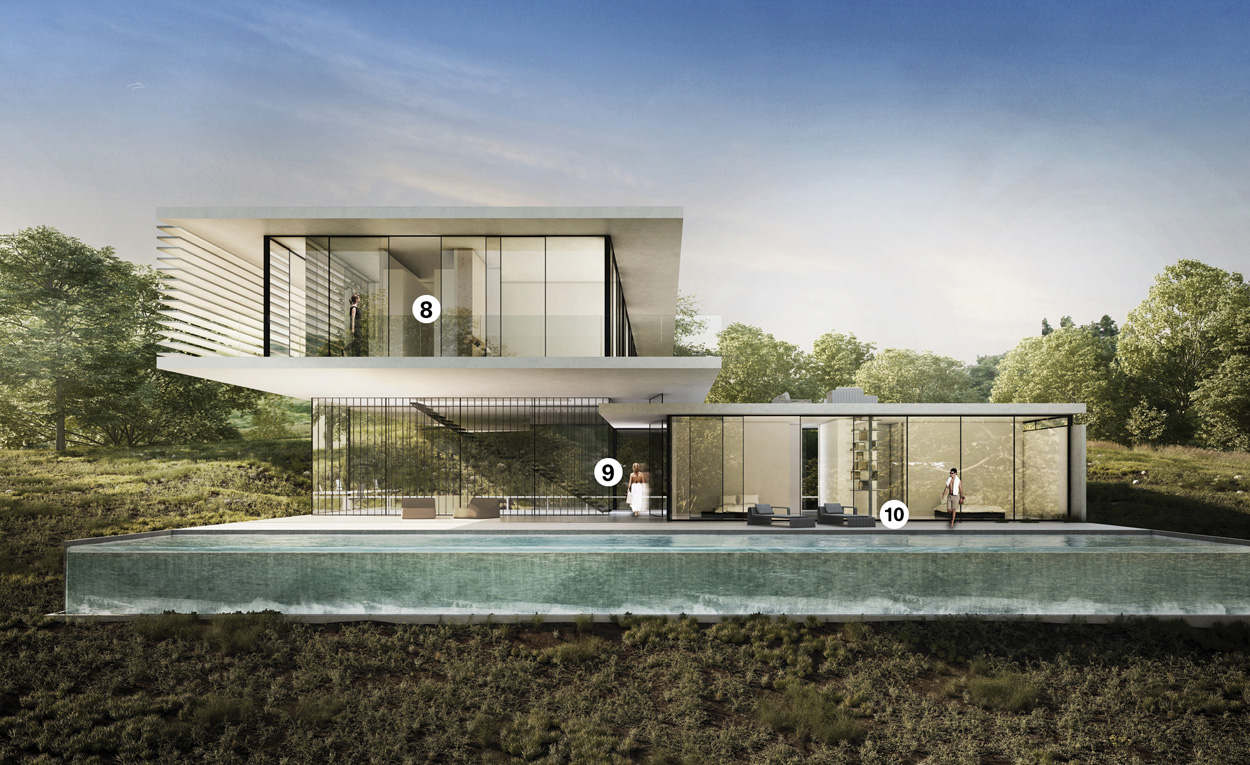 SELLING THE ESCAPE
A rendering for a spec house at Walden Monterey upgrades
the Pond to an Infinity pool.

8. Sterilized glass boxes.
9. Spa attire.
10. Uninviting furniture.
Jekogian and his team hired several architects—including MAD Design, Fougeron Architecture, and Open Space Architecture—to create inspirational 3,000- to 4,000-square-foot minimalist "concept home" designs that residents are not required to select, but that could steer them towards sustainable contemporary design. Because there are no hard rules for style, Jekogian says that someone could technically build an Italianate castle or could live on their land in an RV, but he hopes that most of the homes will be harmonious with nature, with plenty of glass and wood and natural materials. The firm Larson Shores Architects, based in Oakland, designed "Moss House," an asymmetrical 3,500-square-foot home made of glass and steel that is designed to rust over time. In the rendering, the house crawls up a hill, mirroring the Spanish moss that grows all around Monterey. This look—Falling Water meets a Richard Serra sculpture—has become nearly synonymous with "wellness" in architecture; the aesthetic of living healthy now includes living in a house that twists around the land in an organic shape. Jekogian imagines that most of the houses will blend so seamlessly into the environment that they won't be visible from the other lots.
The only structure that will certainly be built for Walden Monterey is a glass box, designed by Alan Williams, that Jekogian calls a "roving room." Every resident will be able to rent the cube as a guesthouse by reserving it on an app. The glass house will have everything a guest may need—a bed, a stark white modern couch, a sleek kitchenette, a spalike bathroom—and will be totally self-contained, capturing rain water and running on solar power. Other amenities available only to residents include a communal table made of fallen trees, a children's play area, a yoga platform on top of a crest, Zen meditation gardens, regular mindfulness walks, a TED-like discussion series, and a trail system that Jekogian hopes will encourage "serendipitous meetings" between residents.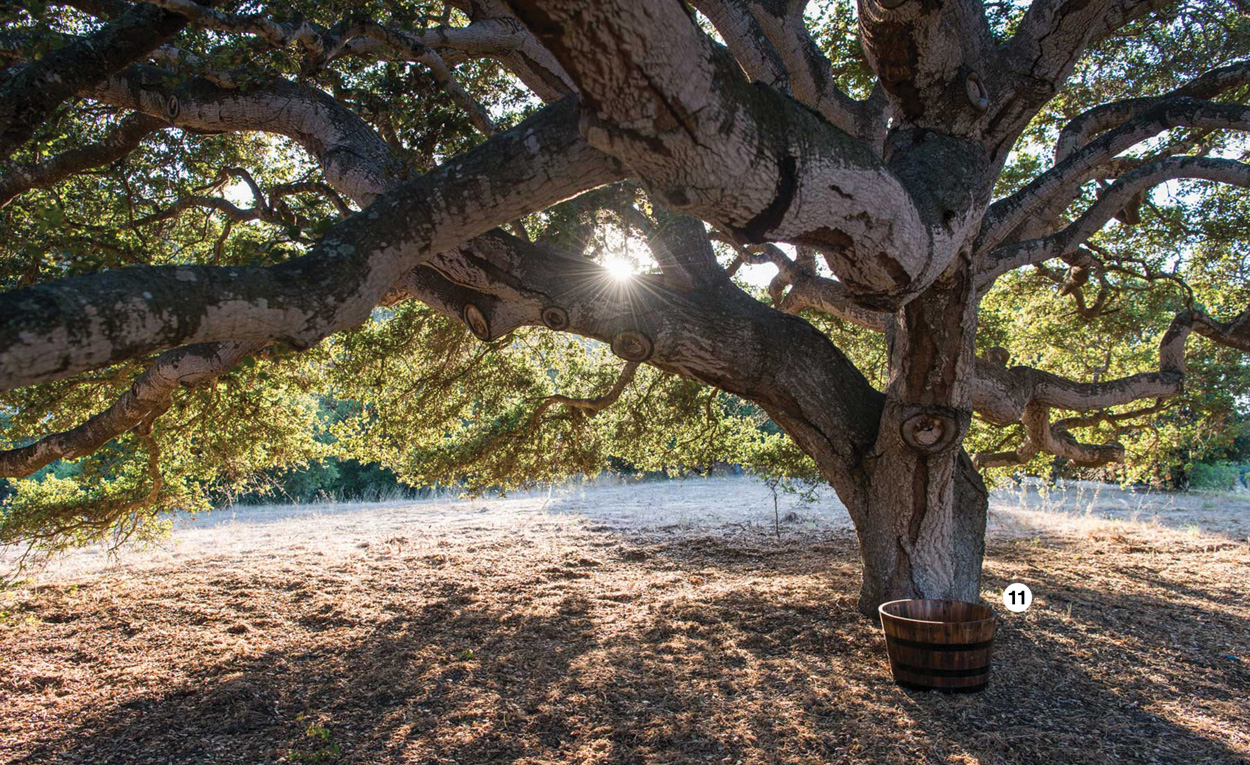 SELLING THE ESCAPE
The tangled oak tree that inspired Walden's developer.

11. Humbling nature.
In the end, this list of private, meditative wilderness perks behind a gate may be the key to understanding the new elite wellness movement. The privilege to unplug, to live simply in a white cube, to become one with some of the most beautiful landscapes the world has to offer, requires great resources. In a complex world, simplicity is sold as the last true luxury. Whether it is drinking raw kale pulp, meditating in a digital-detox yurt, or buying an enormous plot of California real estate on the side of a mountain, the message is all the same: what matters most is individual health and peace of mind, and those comforts come at a cost. The success of Walden, the development, depends on its residents buying into the idea of "the simple life," of "going off the grid," of "being one with nature," while simultaneously embracing the fact that they are purchasing land in one of the most gilded territories in the country, where the soil runs rich with investment and $8 lattes. The ability to hold both of these ideas close at once, and to cherish them, may be Jekogian's real revelation up there on the mountains. He may not have read Walden cover to cover, but in the end, he got the message.