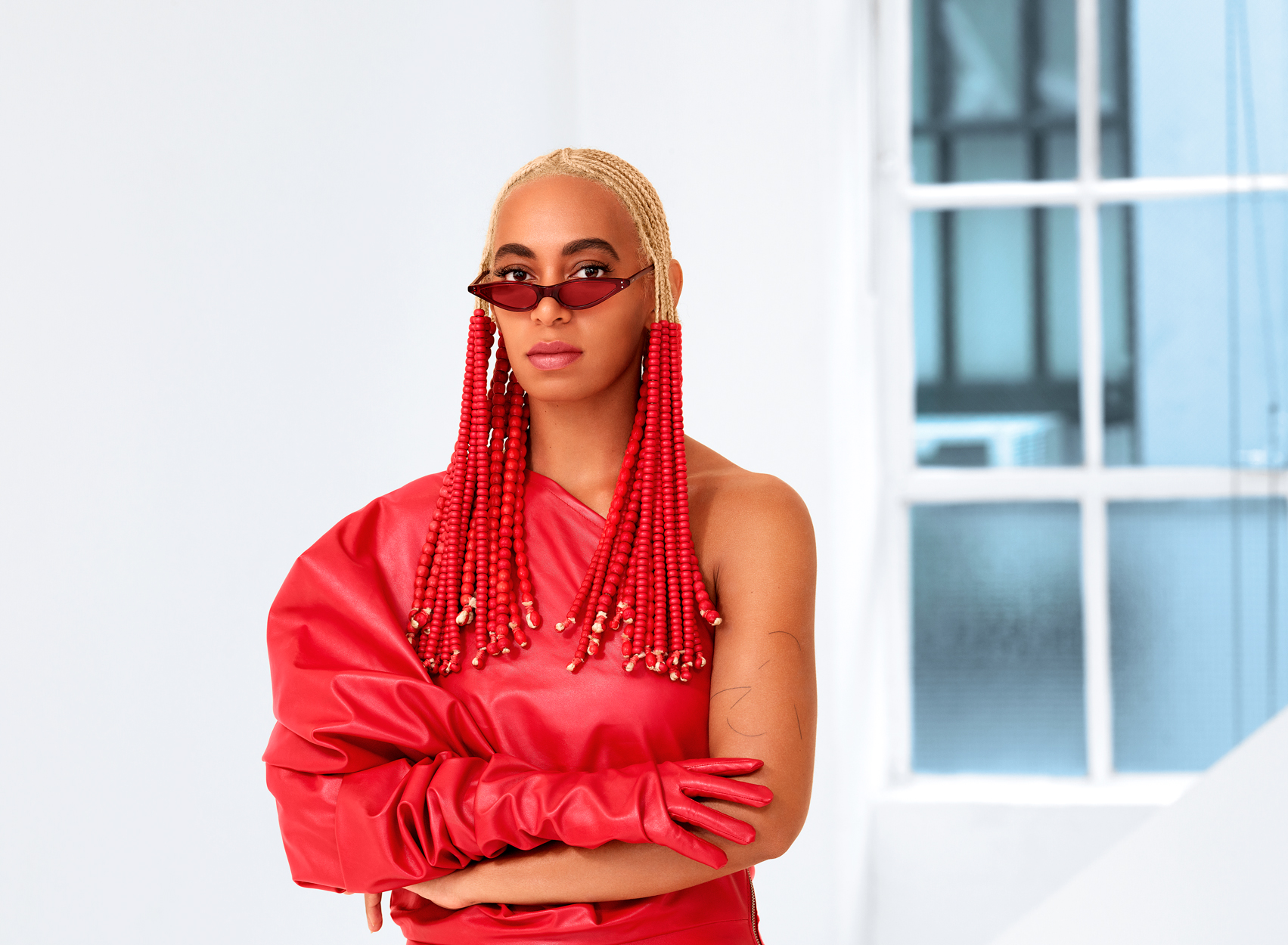 On a warm evening last May, Solange Knowles stood on the ramp of the Solomon R. Guggenheim Museum with 75 other black performers. It was the first time she was playing her new album, A Seat at The Table, for a New York audience. She had chosen to introduce the work boldly, as performance art. Any other musician riding the wave of a breakout album years in the making would have likely played it safe, presenting it traditionally, as a live set that hewed closely to the studio version before an audience of adoring fans. And why not? Knowles had already won them over with her brilliant fourth studio album and the critics too, who had until recently referred to her only as Beyoncé's little sister.  
While a mostly black crowd looked on in all-white, adhering to her Fluxus-inspired dress-code instruction—Studio Museum director and chief curator Thelma Golden, artist Glenn Ligon, and entertainers Zoë Kravitz and Janelle Monáe among them—Knowles stood, barefoot, in a brown Telfar outfit. The piece, entitled, "An Ode To," began with a chorus of trumpets playing a single note, as Knowles, staring straight ahead, led musicians and dancers swiftly down the winding white ramps of Frank Lloyd Wright's Modernist temple. What wasn't clear was the significance of what she was about to do.
Up to that point in her career, we had come to know Knowles mainly as an indie black girl interested in making funky pop music. Her last recording, 2012's EP True, was an offbeat seven-song collaboration with Devonté "Dev" Hynes that explored an alternative take on pop and R&B music. (Play it now, and it sounds amazingly current in this era of expansive R&B.) But this was something else, something bigger. As the performance progressed, she led her band and dancers in a choreography of circles and lines while she sang, screamed, and rolled across the museum's white floor. By the time she moved into the audience, coming face to face with a young black woman as she sang the chorus of her song "F.U.B.U."—"All my niggas in the whole wide world / Made this song to make it all y'all's turn / For us, this shit is for us"—it was clear she was there to march on the museum. She was there to remake, if only for the length of her performance, a storied art space that has historically denied African American artists the opportunity to show their work. She was there to transform the museum into a black gesamtkunstwerk: a total work of art, sound, movement, space, style, and blackness rarely seen in white spaces.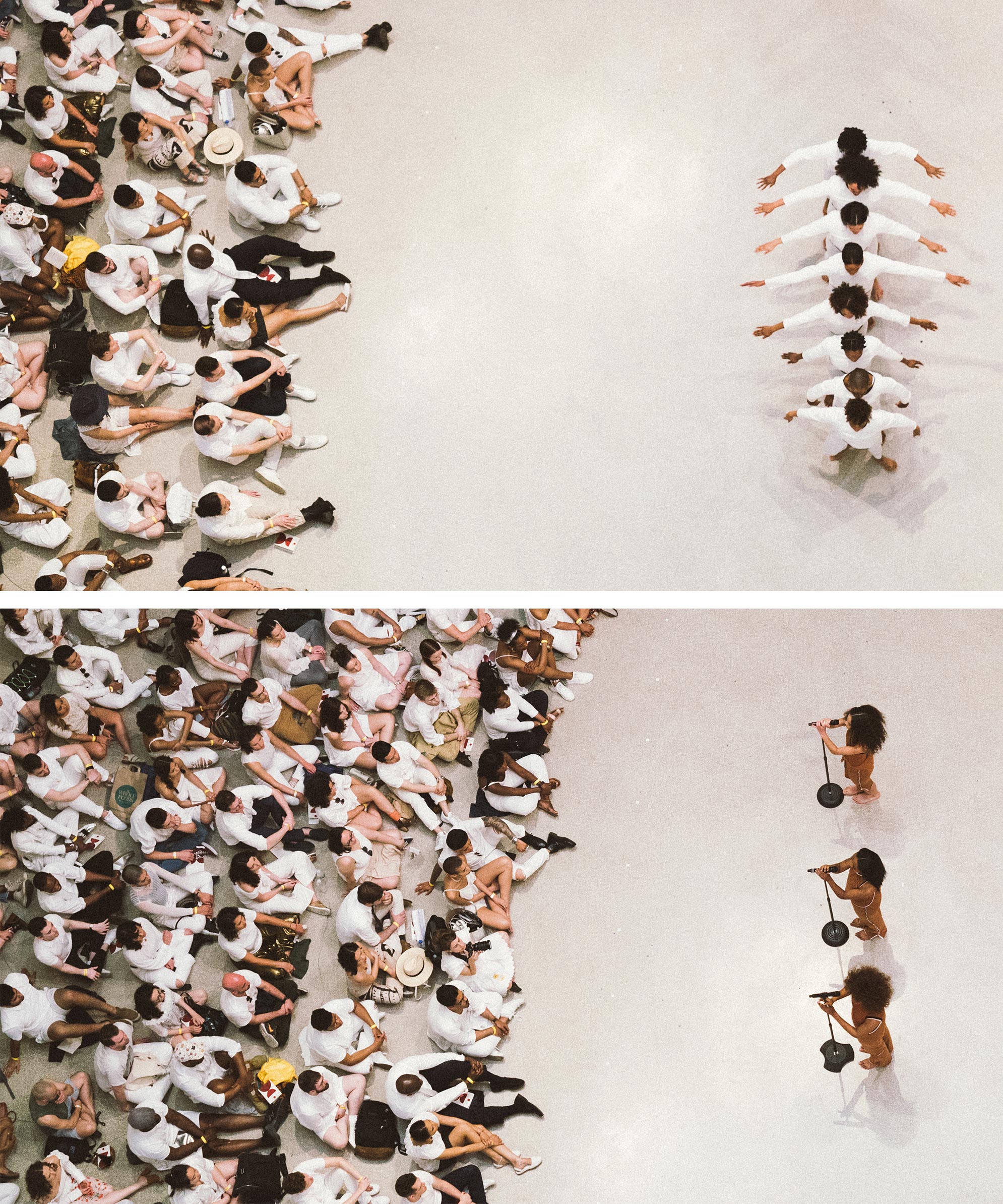 "I don't think that everyone involved fully understood the scale at which I was wanting to create," she says. We're sitting on the ground inside the African American artist Radcliffe Bailey's Vessel, a 2017 sculpture installed in Crescent Park in New Orleans, the city Knowles adopted as her home base with husband, music video director Alan Ferguson, several years ago. It's late November and she's dressed in all white, looking like a relaxed orisha with a small blond afro. She's inspecting Bailey's black sheet-metal abstraction, a work resembling something between Richard Serra's sculpture Torqued Ellipses (2003–2004) and alien aircraft. It's planted a few feet from the Mississippi River, on the occasion of the latest iteration of the citywide art triennial "Prospect.4: The Lotus in Spite of the Swamp." "They certainly were not expecting sculpture to be a part of the conversation," she says of the large-scale white geometric forms she created as a set for the performance. "I don't think that they understood the scale of how many bodies I wanted to introduce into the space—all the ways that I wanted to activate it through the choreography, visuals, and staging."
It's been a full year since she released A Seat at the Table, the critically and commercially acclaimed album she has called "a project on identity, empowerment, independence, grief, and healing." Debuting atop the Billboard chart after selling 72,000 copies in its first week, the album won the artist her first Grammy, a Soul Train Music Award, and most recently, the honor of being one of Glamour magazine's Women of the Year. Since capturing the zeitgeist in the heat of the Movement for Black Lives, she has used the album as source material to make liberating works of art about black womanhood and the struggles of black people to assert their right to take space. Delivering far beyond the promise of popular music and performance, this new art is a remarkable admixture of sound, lyrics, architecture, movement, spirituality, and blackness—an album-object that resists any kind of easy interpretation. And in its wake she has declared herself to be not just another eclectic pop star, but a black visual artist.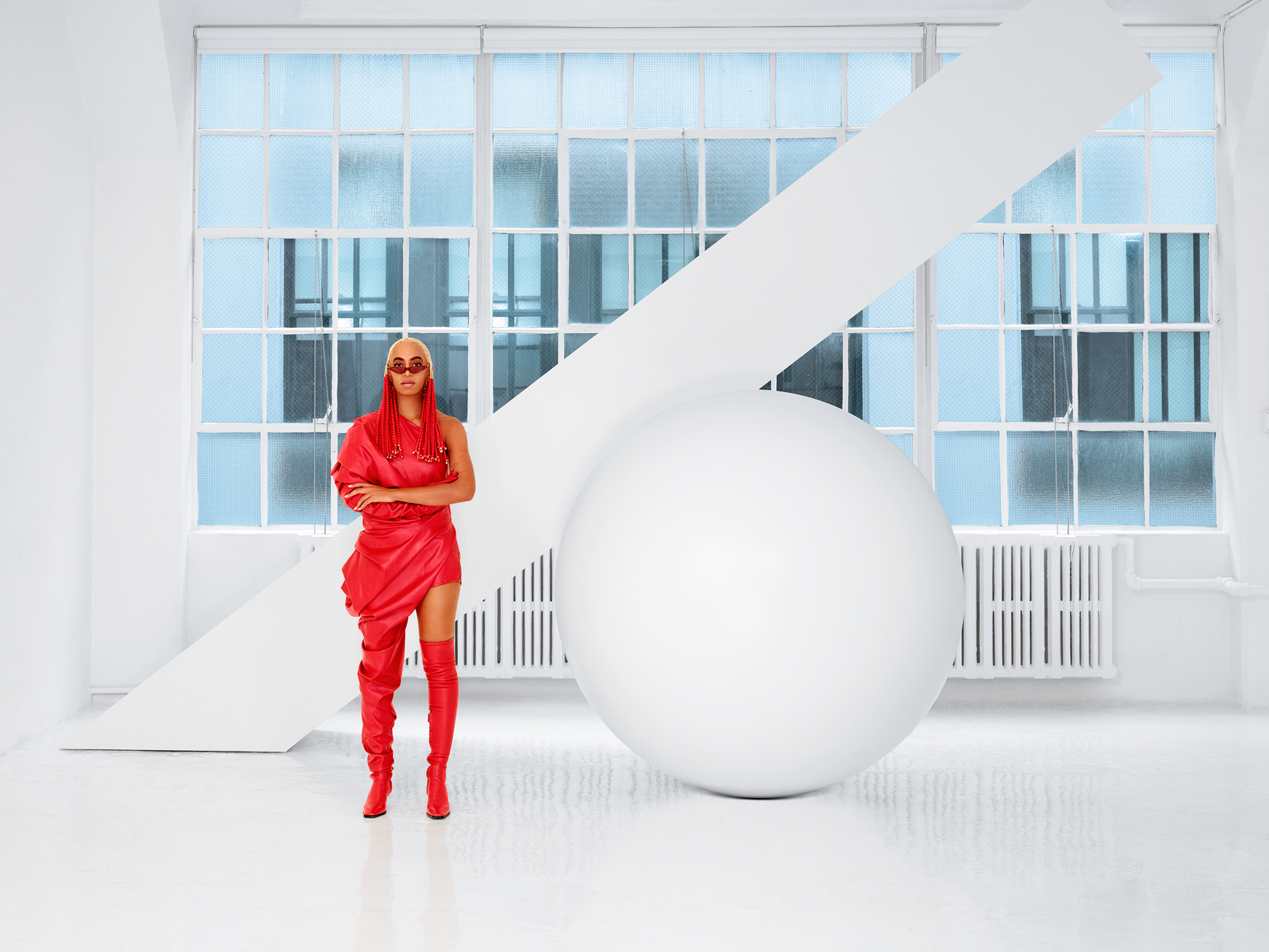 "It's really at this stage about creating the work that I would have done anything to experience as a young girl interested in art," the 31-year-old Knowles says from within the roundness of Bailey's sculpture. "I think it's something to say that my introduction to art was black art."
Knowles was born in 1986 in Houston, Texas. Her mother, Tina Knowles Lawson, an avid collector, decorated the walls of her home and beauty salon with her nearly 100-piece collection of works by African and African-American artists—paintings by Henry Ossawa Tanner, sculpture by Elizabeth Catlett, and works from local artists such as Robert Pruitt. "It was my mother who actually introduced me to Bailey's art," Knowles says. In the early years, Lawson would gather a young Knowles, her superstar sister Beyoncé, and singer Kelly Rowland, who came to live with them when she was 11, around the kitchen table to talk about the themes explored in works she had acquired. "I think it was just to teach them that beauty comes in all different colors and forms and for them to feel regal and strong and powerful," Lawson tells me. "It really had a resonating effect on all three of them, because they've always been really secure in their beauty and grace."
Later, as a teenager, Solange took on her own informal art education, visiting Houston's Menil Collection and the Rothko Chapel. "I would sit in the Rothko Chapel for two hours by myself and feel everything from rage to fear looking dead on and experiencing that work," she says. Knowles was captivated by the ways Rothko's abstract expressionist paintings blend color in meditative ways to evoke emotion. (Her color-blocked album covers for True serve as a nod to the artist's canvases.)
All this exposure to visual culture made Knowles want to be an artist from a young age. Lawson says she saw her daughter's early creative energy manifest in the fierce creativity that showed up in her adolescent fashion sense. "She would wear fur coats with cowboy boots," Lawson tells me. The other kids called her weird for it, but that didn't stop her from expressing who she was.
This singular creative energy was quickly funnelled into the family business of music. For years Knowles traveled as a backup dancer and singer for Beyoncé and Kelly's girl group, Destiny's Child, before releasing her debut pop album, Solo Star, at age 16. But she soon sought a change of pace. At 17, she married her high-school sweetheart, Daniel Smith, and moved to Moscow, Idaho, where he was attending college. "Being so nomadic, and the rapid pace in which my life moved from [age] 13 until 17 … I craved repetition in a way that was so radical," she says. Within a year, she gave birth to their son, Daniel Julez Smith Jr., and began working on her second album, Sol-Angel and the Hadley St. Dreams, a homage to 1960s and 1970s Motown. The album was released in 2008, after she ended her marriage and moved with her son to Los Angeles, splitting her time between the West Coast and Houston. It had a lukewarm critical reception and sold just 138,000 copies. Pitchfork called it "a fatally over-ambitious statement at odds with the more mercantile concerns of mainstream pop."
The criticism touches on a larger narrative that had plagued Knowles's early career: Everyone expected her to be her sister. Though the younger talent clearly had other aspirations in mind, she struggled to find her own aesthetic against the backdrop of Beyoncé's blossoming success, seemingly jumping from one pop formula to another with the hope that one would stick. True's arrival, in 2012, marked her first step into terrain that sounded uniquely her own. In a review of the EP, The Guardian insightfully named her "an alternative icon in embryo," a status first evinced by her translation of the Dirty Projectors' "Stillness Is the Move" into what the critic dubbed "art-school, Afro-inflected R&B."
With the genre-defying debut of A Seat at the Table in 2016, Knowles proved she had finally arrived at an aesthetic, and a message, wholly her own: one of a visual artist espousing the politics of black female selfhood. Though Knowles is hardly the first musician to attempt the crossover into the art world—see Kanye West's widely panned "Famous" sculpture exhibition at Blum & Poe in 2016, and her brother-in-law Jay Z's 2013 collaboration with Marina Abramović for his song "Picasso Baby," in which the artist later said she felt "used"—what distinguishes her is the gravitas of her act. In a time of "woke" culture, which demands representation for those unseen in America, hers is an identity that gives voice to experiences long ignored. And it couldn't have come at a more urgent moment. In an period of deep political and social strife in America, the artist's album offered an emotional and intellectual space for black spiritual recuperation.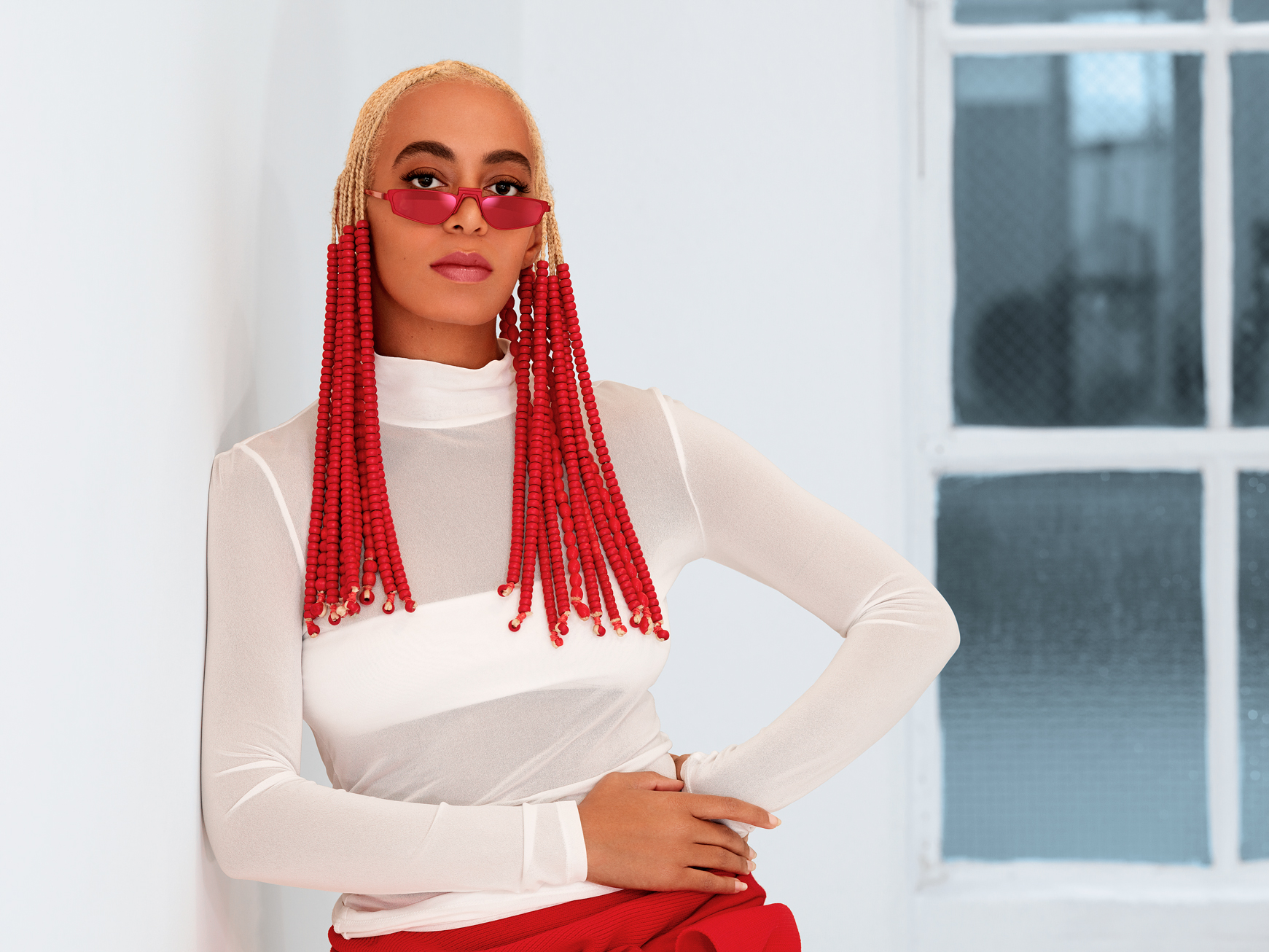 Looking out toward the Mississippi River, Knowles describes how reading the black poet and playwright Claudia Rankine's award-winning 2014 book Citizen: An American Lyric encouraged her to explore the rage she had harbored for years. Rankine's book-length poem, which uses artwork and popular imagery to examine race in America, acknowledges the microaggressions and acts of terror privately experienced by black Americans. Knowles says it showed her that "we're not crazy and that we're not trippin' and it's not our imagination. That these things are very real. They are very painful and they are everywhere."
Writing the album helped Knowles seek answers to a set of questions she has long lived with as a black American woman. "For me it was about [asking], How can I exist with all of this rage and all of this pain and all of this anger? How can I possibly exist every day out here in the world with that? How do I turn that into glory? How do I turn that into power? How do I transcend with all of that facing me so closely?" The expansiveness of the resulting album is a testament to the fact that she has given up trying to fit into a pop package, and decided to use the circumstances she has lived through to create art that is an aching representation of life. To create art that takes on the space that it exists in.
That powerful transformation had already been fomenting for nearly a decade, inspired by her first week-long trip to Marfa, Texas, to see Donald Judd's Chinati Foundation when she was 21 years old. Seeing how he turned humble materials such as metals, wood, Plexiglas, and concrete into colorful geometric stacks, boxes, and progressions was a life-altering experience. Not only did it open up her mind to the idea that everything is "the work"—the space, the sound, the movement, the audience, her own life—but it also helped influence her own visual language. And in particular, the ways that she wanted to perform and "deliver" A Seat at the Table live.
Knowles has debuted the album as a traditional musician would, in a tour entitled "Orion's Rise," playing before large crowds across America and Europe in sold-out theaters. Her recent diagnosis of autonomic disorder, a condition that involves the breakdown of the autonomic nervous system, which she disclosed via instagram in December, has resulted in the cancellation of several appearances, including a New Year's Eve show during the Afropunk festival in Johannesburg, South Africa.

But she has also used the album to create more intimate, site-specific, and highly controlled (one characteristic she does share with her sister) happenings like "An Ode To" at the Guggenheim and "Scales," a performance that connects sound, movement, and architecture that she presented at the Pérez Art Museum in Miami, at the Menil Collection in Houston, and the Chinati Foundation in Marfa.
"I found so much joy in being able to work in roundness and being able to really explore creating architecture with movement," she says of taking her work out of the traditionally square setting of a stage. "It really goes back to the art, taking on the space that it exists in, and wanting there to be a real connection. I'm not at all interested in entertainment. I'm really interested in energy exchange between the viewer and the performer. One way to do that is to make an inclusive experience through style, through energy, through space."
Knowles explains that she developed the choreography over six months at the end of 2015 by recording herself in free-form movement on her iPhone. "Some of them were horrible—an absolute hot mess," she says, laughing, while flipping through the videos on her phone. "I wanted to create the practice of really having, again, the space and the time to sit with myself and get to know my body better, and come up with a language of movement in a way that I was really leaving my body for once and letting my body lead."
In this way, Knowles's refined choreography and sound, rooted in improvisation, echo the 1960s and '70s traditions of both New York's Judson Dance Theater and black avant-garde art collectives like the African Commune of Bad and Relevant Artists (AfriCOBRA) and the Association for the Advancement of Creative Musicians (AACM). These experiments in jazz, art, theater, dance, and style—and in particular, Yvonne Rainer's focus on everyday movements, late composer and pianist Muhal Richard Abrams's highly individualistic experiments in jazz, and designer Jae Jarrell's use of fashion to empower the black family—resulted in collective actions that occupied actual space as they asserted themselves in a cultural space. A few generations later, Knowles appears to have taken up their mantle.
"That move into a metaphorical space is exactly what Solange is, I think, encapsulating now," says curator Naomi Beckwith, who co-organized "Freedom Principle: Experiments in Art and Music, 1965 to Now" at the Museum of Contemporary Art Chicago. "At the end of the day, most museums are these kind of Bauhaus spaces, what we call the 'white cube.' While that is a real aesthetic, and there is a history of 'what looks good' in that kind of space, I think Solange's practice now is reminding us that it's a blank space. That a blank space holds a lot of possibility. And you can transform that space into what you need it to be."
Taking the opportunity to be minimal, to be modern, and keep my eyes and ears open, my senses open. Now I feel like this is really the starting point for me.
Knowles has also carved out space for her lyrics to be experienced beyond their aural effect. In works like "Seventy States," a digital homage to the trailblazing black feminist artist Betye Saar commissioned by the Tate Museum in London in 2017, and the lyric book she released (also titled A Seat at the Table), Knowles employs text and image to give her lyrics a sculptural quality. The book reworks lines from the album's songs into black geometric shapes set in white space, a practice suggestive of Glenn Ligon's use of repeated phrases in works like his seminal 1990 painting "Untitled (I Feel Most Colored When I Am Thrown Against a Sharp White Background)." (The piece borrows the line from writer Zora Neale Hurston's celebrated 1928 essay "How It Feels to Be Colored Me.") Knowles's own lines appear poetically arranged on the page, printed repeatedly to amplify the weight of her words.
"As a writer, sometimes once you start to build these sonic landscapes and you're building up this instrumentation, lyrics seem to get lost," she says while flipping my copy of her book. "I wrote every lyric on this album with so much intention that it was really important for me that people be able to read and process it," she says. "There was some lines like 'Don't bite the hand,' that needed to be repeated a hundred times, so that you feel the brutality of what it means to have a white person tell you, 'Do not bite the hand that feeds you,'" she says, referencing her Twitter takedown of New York Times critic Jon Caramanica in 2013. "That is the line I need you to spend a little more time with."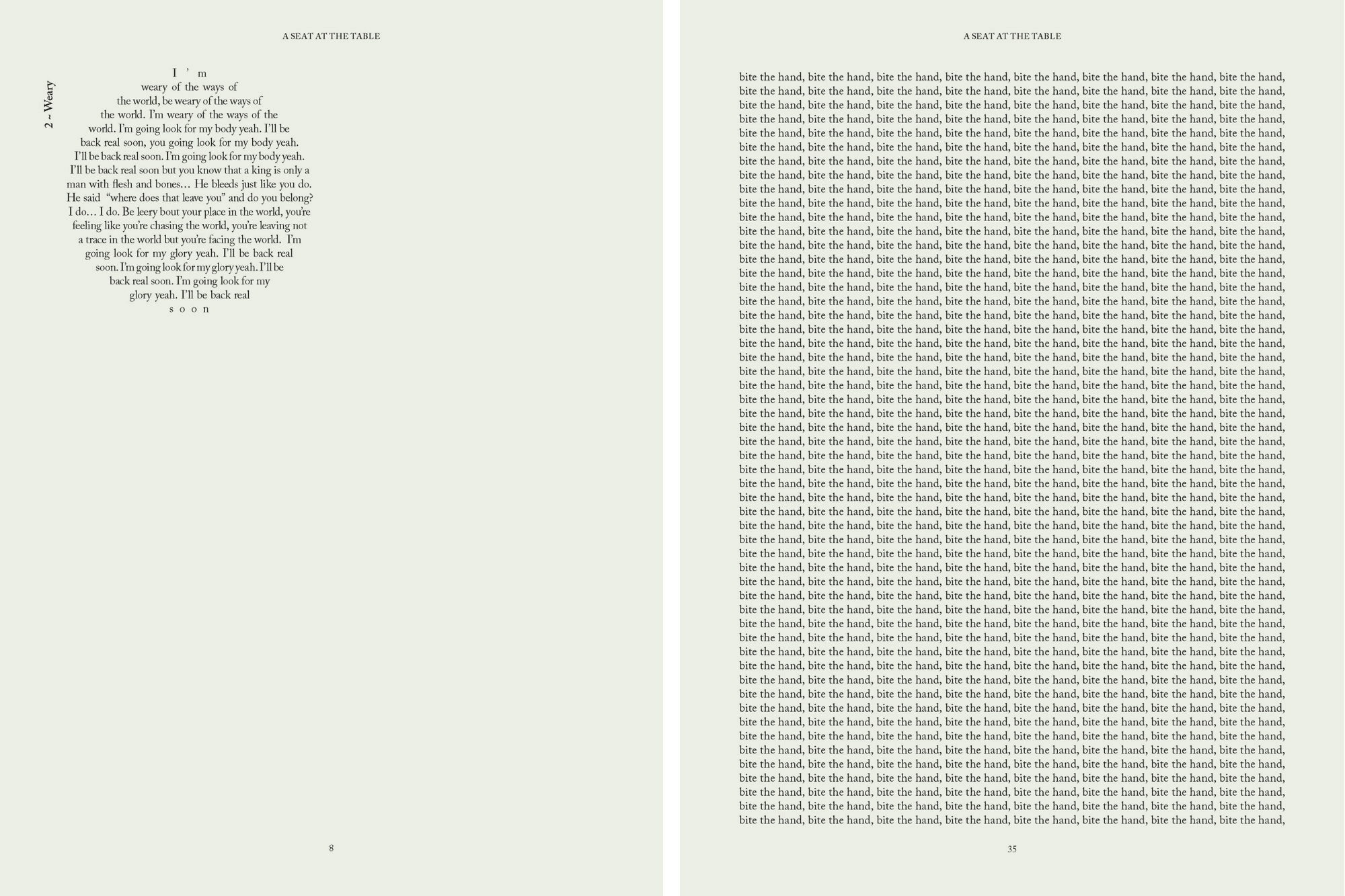 Walking with me down a tree-lined path in New Orleans, Knowles says that A Seat at the Table has not only brought her a measure of peace, but has also made her comfortable taking space as a black female performance artist. It's a new chapter, she says, and one that's notably different from the Solange of a year ago.  
When Knowles made her debut performance on Saturday Night Live, singing "Don't Touch My Hair" and "Cranes in the Sky," in November 2016, she looked ethereal in all white, sporting a braided halolike hair sculpture created by the artist Shani Crowe, on a set reminiscent of Judd's minimalist sculptures. But her manner was one of nervousness, as she sang and moved with caution.
Soon after the performance, she told me, she and artist Kerry James Marshall had a conversation. Marshall has spent nearly five decades creating paintings of black life that have rewritten the canon of Western art. He asked Knowles if the SNL piece was performance art. "I struggled to answer," she says. "I was all over the place. I did not feel worthy at the time of saying 'Yes' to that."

A year later, she has a different take. "I've spent my entire life dedicating myself to this craft, and yes, I am qualified!" she says. "Now I have been able to use all of the experiences that I've had, the influences I've had, and the space and time that I've had to explore in a new realm. I feel like this past year was just the beginning and just the start of where I'm really looking to go with my work."
In the future, Knowles says she wants to create performance and sculpture that goes beyond her current experiments with A Seat at the Table. "I think New Orleans has had a great influence on me in terms of the freedom that I was able to have, and the courage, really, that I am able to live in based off of just seeing everyday life here and how committed people are to who they are," she says. "New Orleans is such a wonderful place to do this because in the literal sense the space that you have to build and create is limitless."
A few weeks after our walk along the river, Knowles invites me to a musical meditation in the middle of the woods in upstate New York. Her instruction, once again, is to dress in all white, and I oblige. Upon arrival, the sound of her voice riffing off the chords of "Rise" flows from a white, snow-covered geodesic dome. Once inside, I find Knowles standing in a white dress by Ioannes and matching Hood By Air boots. Presiding over an intimate crowd seated on the floor, she's creating new, vulnerable, and beautiful art. The scene is another promising vision of black power in white space.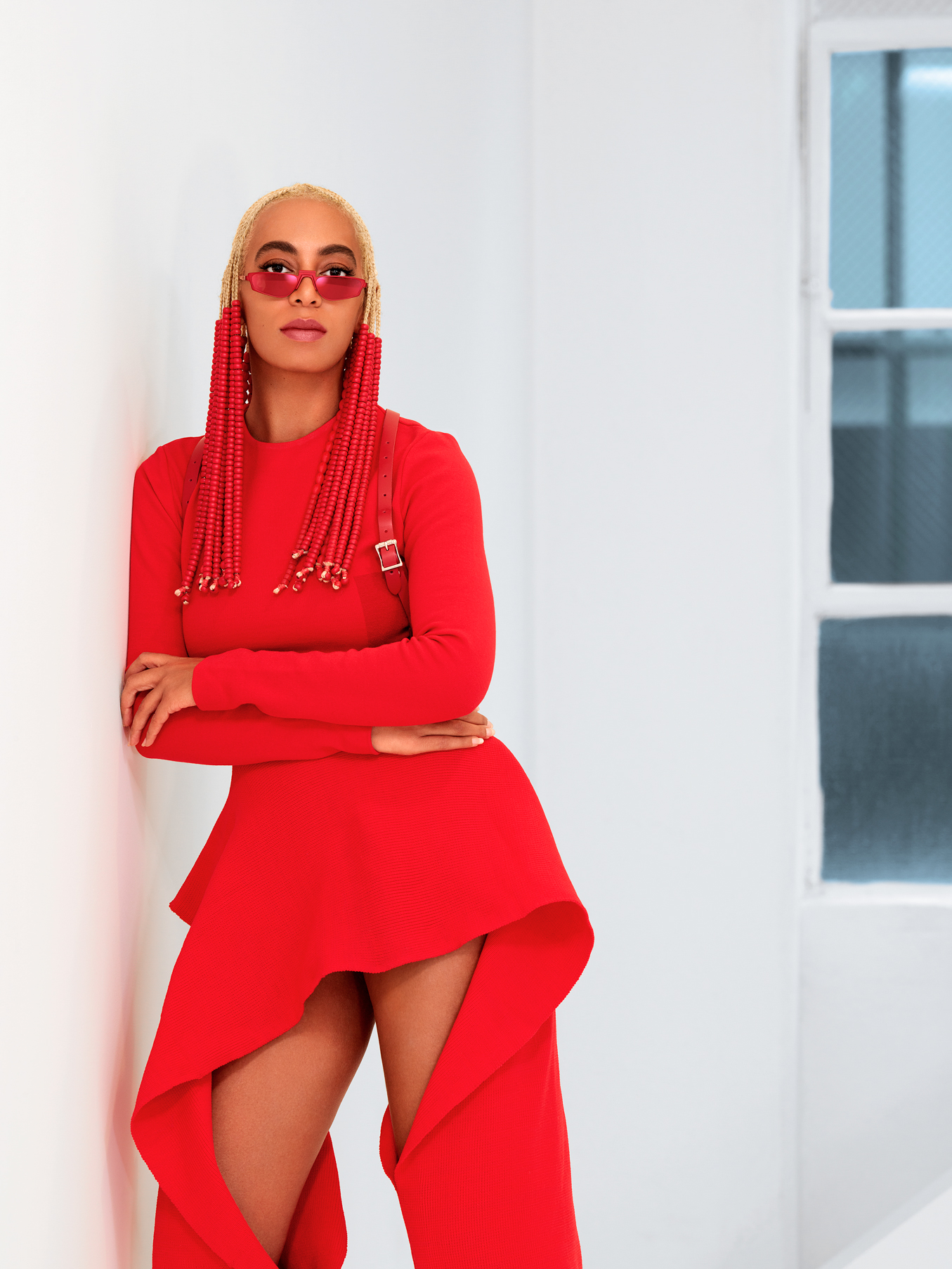 PRODUCTION CREDITS
Stylist: Peju Famojure
Stylist Assistant: Laolu Onabanjo
On Knowles: Scarlet Sunglasses, George Keburia; Jumpsuit, Jamil Moreno; Boots, Versace. Sunglasses, Andy Wolf; Turtleneck, Rosetta Getty; Trousers, Carolina Johansson. Sunglasses, Andy Wolf; Harness, Zana Bayne; Shirt, Carolina Johansson.