Art
Louise Bourgeois Holograms
An exhibition in New York City brings together a little-known series of works.
By Rachel Small January 11, 2017
Louise Bourgeois, Untitled (detail), 1998-2014, suite of eight holograms
(Photo: Matthew Schreiber, The Easton Foundation, VAGA/Courtesy Cheim & Read)
In a dimly lit room at Cheim & Read gallery, eight small artworks depict shadowy arrangements of furniture—chairs, mirrors, and beds occupied by disembodied legs—glowing in three dimensions. Blood-red holograms in compact frames, they resemble picture book illustrations rendered by HAL 9000.
The series is an unusual body of work by Louise Bourgeois. Made in the late 1990s, the holograms depart from the late artist's use of wood, bronze, fabric, and other pointedly physical materials. But they retain the artist's signature dreamy and psychologically loaded imagery.
The opportunity to utilize the technology came about when the production company C-Project approached Bourgeois to collaborate. The short-lived enterprise (which folded in 2000 with the dot-com bust) presented holograms as a new artistic frontier, and worked with with James Turrell, Chuck Close, and Ed Ruscha, among other notable artists, to produce work.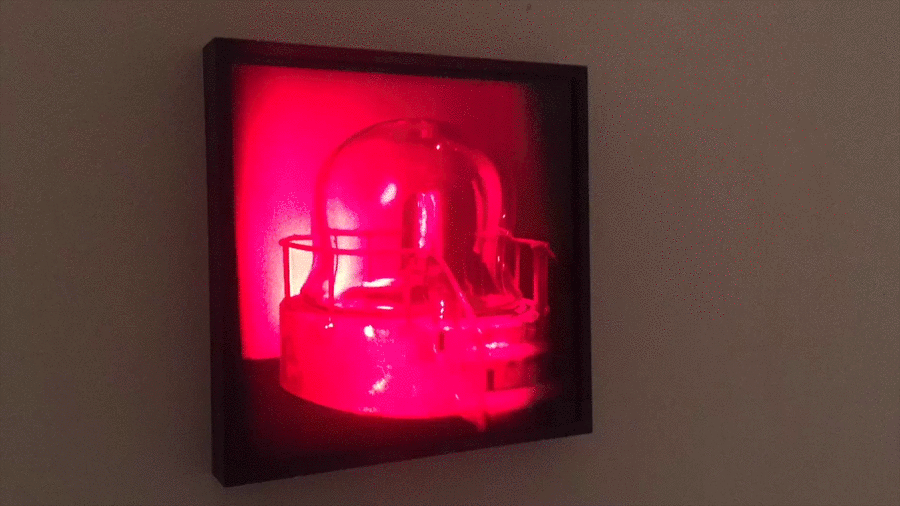 At the time, Bourgeois had completed several dioramas in which miniature chairs were placed amid mirrors. The overall size and relative dimensions of the objects easily translated to holographic forms. Jerry Gorovoy, who worked as Bourgeois's assistant for 30 years, says the medium seemed like a natural fit. "Her work oscillates between real space and psychological space," he explains. "I think she thought that the holograms would accentuate this idea." And he adds, she was pleased with the results.
In the context of the show, the works are jarring. It takes a moment to realize exactly what they are and how to move around them. The uncanny, haunted quality of Bourgeois's compositions takes on the cold, sentient glow of an untrustworthy computer in a vintage Sci-fi film. Gorovoy calls it a "charged unreality." It feels like being watched when no one is there.